Supplementary services: Culture of standardized monitoring plants

The success of plant biomonitoring and the reliability of results largely depend on the quality and homogeneity of the plant material employed in active monitoring studies. Only uniformely developed plants, available at identical and optimal stages of development throughout the season, ensure reproducible results.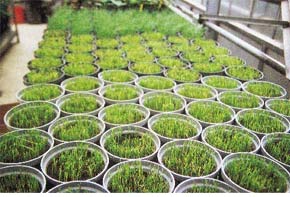 Homogeneous culture of monitoring plants is a prerequisite for reliable results
More than 20 years of experience in the development and application of methods in plant biomonitoring, combined with appropriate greenhouse and culture technology, ensure high quality of monitoring data.
Our main greenhouse with temperature and shade controll, is supplemented by greenhouses and open-top chambers, provided with charcoal-filtered air. They provide optimal culture conditions even for the most sensitive indicator plants.

As a practitioner in the field of environmental monitoring, you can count on bioindicator plants of highly uniform quality, available at the time when you need them.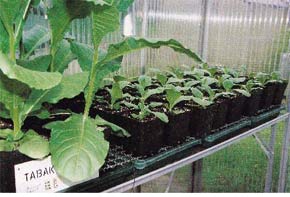 Throughout the culture period, filtered air provides optimal growth conditions for highly sensitive indicator plants, like tobacco Bel W3.